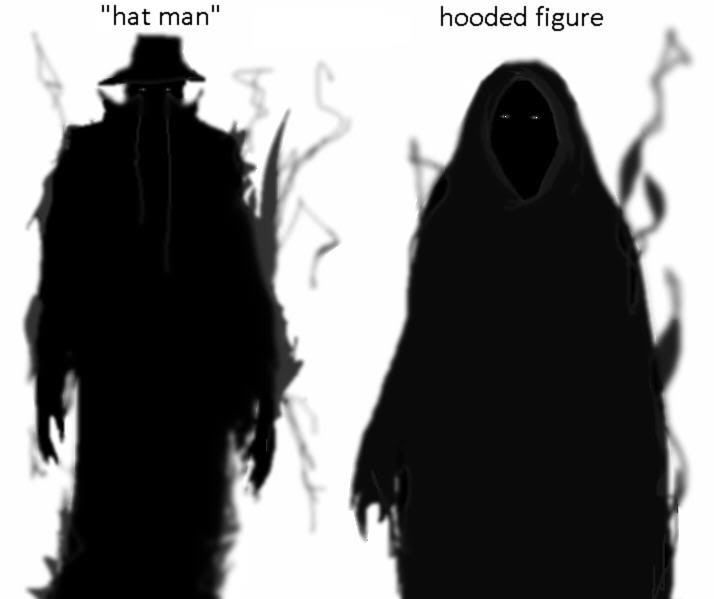 Shadow People. They're popping up more and more, and more frequently within the past few years. To sum it up, they're not ghosts, hauntings, or anything... they're just other-realmy beings that come and seem to "observe" us. I've noticed that they only come out at night - but there was ONCE that I swear I saw one during the day - and most of them like to feed off of anxiety and fear. (Please don't get these beings mixed up with astral psychic vampires, though.)
Many people see them as - duh - shadow-like creatures, mainly resembling human form. The two most common forms appear to have a hat, and the other to appear to be cloaked. (See above picture.)
Common experiences with Shadow People just include the feeling of being watched, a sudden pull of anxiety/fear the comes from nowhere upon their arrival, and they usually move away quickly and dissappear when noticed/looked at... most of the time. Sometimes, like with my personal experience, they persist to
stand
there, watching you, and in rare cases - like mine n.n - they follow you. It is in these cases, that we get the rare occurances of them actually trying to "attack", "attach" themselves to, or stalk you. This was what all that was involved in my experience. While I've had countless encounters with many Shadow People, there were two or three that stalked me and two of my friends, to a point where my friends refused to go outside at night.
In my BAD experience, one found a place infront of my bedroom window, and just stood there for about an hour. With the overwhelming feeling of anxiety that comes from there presence, I wouldn't gather up the courage to go to the window, or even take action to protect myself and put up my blocks. The ones that would find me that were NOT good, also seemed to have a strange ability to make my mind go BLANK when calling up protective chants or quickie-spells to protect myself, and/or shield my room.
It was only after the aid of a fellow Pagan friend that I was able to ground ALL of my astral attacthments and negative energy. I blessed my room, and put seals on my windows and doors. I haven't had NEARLY as much encounters with them... atleast the "bad ones." I still see normal Shadow People during the night atleast 4 times a week.
(Theres a lot more that goes with that story, but I'm not going to waste your time.)
So I'm asking everyone - have you seen these Shadow People? Had experiences with them? Know something about them that you think would benefit everyone? Lets hear it.