Article:  Does anyone think we Respect the military too much?
America:  Freedom of Speech, Freedom of Expression...You think you have it right?
Sure you do! Having it doesn't mean you won't be fired from your job, or become the target of a public witchhunt on Facebook!
Lindsey Stone was within sight of the Tomb of the Unknown Soldier, the photo was considered offensive because of the 'expression' it implies...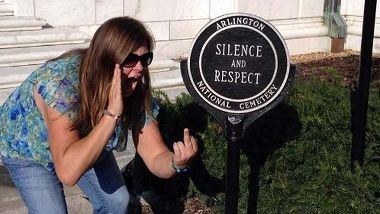 It doesn't matter much if she's just being silly, or demonstrating her defiance of the sign for the sake of capturing a funny moment at Arlington Cemetery...  She published the photo on Facebook and this was the catalyst for a whirlwind of media attention and her eventual forced leave, and termination.
Do we Respect the Military too much?  Does the guy that cleans the toilets have as much honor as the soldier on the cover of Time Magazine who fought in Iraq?
Do civil employees have to follow the Code of Conduct the military is bound to?
Articles:  Happy Now?, Facebook Fury!, Lindsey Stone Loses her Job!, Veteran Speaks out for Lindsey Stone, We apologize!
Interesting links:  Code of Conduct Study Guide, Army Public Affairs, SERE, USMC, Armed Forces Code of Conduct
Thoughts?