Beltane Oil Recipes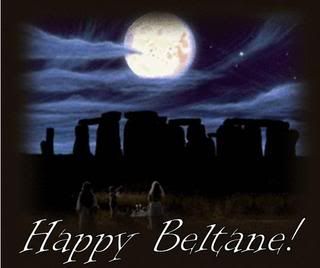 Important note regarding the recipes below ~
Please do not add more essential oils than called for as this can cause a skin reaction. As well, please be extra careful when buying essential oils as some shops I have visited mislabel fragrance oils as essential oils. The price of essential oils will be very different from scent to scent and will have a fairly complex smell. Fragrance oils usually have a much simpler scent and are sometimes mixed with florals so that a scent like sandalwood becomes more floral than the genuine oil. Where fragrance oils are called for, I call these "synthetic". Always check before using anything on your body for a reaction by placing a small amount on the inside of your elbow.
Moon Goddess Bubble Bath
The key to this bubble bath is the use of shampoo, which has in it some of the necessary ingredients to make bubble bath. By using an unscented or lightly scented shampoo, you are able to change the scent to create the smell you desire!
What you need:
4 cups (1L) baby shampoo
15 drops sandalwood mysore e.o.
10 drops lemongrass e.o.
10 drops rose Otto e.o.
5 drops ylang ylang e.o.
First, blend the essential oils together in a glass cup or mixing bowl. Slowly, mix the essential oils into the baby shampoo. The shampoo will be thick at first but it will slowly react with the essential oils to make it more like water. Keep this mixture for no more than 6 months to keep yourself smelling like a goddess!
To test before using - Place a bit of this mixture on the inside of our elbow for 4 hours before using. If a rash or any kind of reaction occurs, do not use This is a simple way to make your own bubble bath and you can go wild with the combinations however please do not exceed 10 drops of essential oil per 250mL (1 cup)
Pre-Ritual Shower Shampoo
This one should be much thicker than the type above but I don't like it as much.
What you need:
1 1/2 cups shampoo (or liquid soap)
1/2 cup grated soap (unscented or only lightly scented)
5 drops frankincense essential oil
2 drops myrrh e.o.
2 drops lemon e.o.
1 drop ylang ylang e.o.
1/2 cup distilled water (please make sure you use only distilled)
2 tablespoons Witch Hazel
2 tablespoons Cold Pressed Sweet Almond Oil
Mix 1/2 cup of the shampoo (or liquid soap) gently with the essential oils.
Once gently blended (should still be slightly thick like original shampoo or liquid soap), mix in the distilled water, Witch Hazel and Almond oil.
Place this mix in a pan and gently heat while very slowly adding soap flakes. Keep heating and gently stirring until any trapped air begins to slowly rise. If you allow this mix to boil, it'll just make it too bubbly.
Once completed and all soap has melted, let the blend cool. You'll find a funny bubbly foam film on the surface - use a metal spoon to skim this off.
Once done, you should have a cup of shampoo left, which you now very slowly fold in.
Warning - please be careful when heating this blend on the stove as there is a risk of burning and if you heat the essential oils too much, they will lose their beneficial effect.
This recipe was made by Judith Lewis of
http://www.NewMoonOccultShop.com
For Cauldrons and Broomsticks.
Spring Revival Foaming Bath Oil
120mL vodka
240mL sweet almond oil
30mL any bubble bath
3 drops lemon e.o.
5 drops lemongrass e.o.
5 drops juniperberry e.o.
2 drops ylang ylang
You will need to shake (not stir) this mixture to keep it mixed together and it foams rather nicely. This again uses a pre-existing bubble bath in order to achieve the desired effect because the way to make bubble bath involves chemicals that are not easy or necessarily safe on their own to work with. This includes sodium laurel sulfate.
This recipe was made by Judith Lewis of
http://www.NewMoonOccultShop.com
For Cauldrons and Broomsticks
Morning after the night before bath salts
Here, the Epsom salts are the key to this blend
1cup Epsom salts
1cup coarse salt
10-20 drops green food coloring
6 drops eucalyptus e.o.
4 drops rosemary e.o.
5 drops peppermint e.o.
3 drops patchouli e.o.
Mix the two types of salts together in large bowl. In a different, smaller bowl take 1/4-1/2 cup salt mixture and add food coloring and oils while stirring to avoid wetting the salts so much they dissolve. Mix this set of salts very well. Once completely blended, add this blending back into rest of salt mixture. This needs to be blended well and should evenly coat your salts to create a yummy bath sensation.
This recipe was made by Judith Lewis of
http://www.NewMoonOccultShop.com
for Cauldrons and Broomsticks.
Priestess Incense
This is a complex incense and needs to be burnt on charcoal. Make only in small amounts as it is sticky
2 parts lavender herb
1 part rose herb
1 part jasmine herb
2 parts frankincense resin
1 part myrrh resin
2 parts copal resin
1 part amber resin
2 drops lime e.o.
2 drops grapefruit e.o.
3 drops lavender e.o.
8 drops rosewood e.o.
2 drops ylang ylang e.o.
1 drop frankincense e.o.
This recipe was made by Judith Lewis of
http://www.NewMoonOccultShop.com
for Cauldrons and Broomsticks.
Amberella's Return
This incense needs to be burned on charcoal
5gr. soft, fragrant amber resin
5gr. copal
2gr. frankincense
3gr. colphony
add to this resin blend
2 parts cedar herb (tree of life)
2 parts rose petals
mix together the 2 blends and to this dry mix, add
2mL synthetic amber oil
2mL synthetic ocean oil
this will get sticky so store in a way you'll be able to get at (wide-lipped glass jar).
By Judith Lewis
Found ans Poster by Witch of the North )O(
Blessed Be..