*** *** *** *** *** *** *** *** *** *** *** *** *** *** *** *** *** *** *** ***
DIANA'S BOW NEWSLETTER 10/31/08
Coming out of the tent, refreshed and inspired!
A bit of Witchy Women's Divination, Writing, Poetry, the Arts and Reviews!
Written and compiled by Anita Stewart aka the Tarotlaydee )0(
*** *** *** *** *** *** *** *** *** *** *** *** *** *** *** *** *** *** *** ***
*************************************
Diana's Bow in Sagittarius by the Tarotlaydee )0(
*************************************
The Diana's Bow Moonphase is really exalted in the sign of Sagittarius as this is the Moonphase of beginning action and Sagittarius is all about forward movement, new starts and fast action. Remembering that the Sun is your outer personality and the inner part of you is governed by the Moon, for the Moon to be in the sign of Sagittarius means that this is the time to plan your new venture, your amazing endeavor, something that keeps you busy and engaged. Friends are important at this time, as Sagittarius is all about those you gather around you. There is passion in what you want to engage in, this new forward movement is something you really can believe in and you want everyone to be as involved as you are! Be sure to look at your personal natal chart to see what house this Moonphase will affect, check the aspects to that house and then start working on your plans. Think of MORE of everything because Sagittarius is ruled by Jupiter, the largest planet. Be sure to use this Moonphase to benefit yourself! Your optimism is INFECTIOUS!
*****************
About Healing by Crow
*****************
Let's talk of healing. Ask among yourselves & your groups, "how does one heal, how often do we think of healing, what is healing?" Yes, the term "healing" can conjure many thoughts & questions; but in this time, our minds often go to professionals … doctors, nurses, "established" medicine. But what can each & every one of us offer in healing? Think about it…what does the divine in you innately give in order for one to offer a healing gesture? A smile perhaps…a soothing word…knowing when not to speak…a listening ear. We are all healers…yes, you, me, our sisters, brothers, neighbors…nd healing is contagious. Try this…go through one day with the slightest smile on your face …nothing overt or obvious…just a hint of a smile; as if you are only just beginning to think of something pleasant…and then observe. Count how many people smile back when they look at you. You may be surprised at how quickly the smiling faces add up…and you did that…you started that smile from within your being & offered it to the world to see & respond to. And what chain of events may follow through the day when your smile is repeated from face to face…a soothing, pleasant, priceless gift of upturned lips…the child will hum…the harried gentleman will sleep more soundly…the mother will offer kinder, gentler words to her children…and on and on it goes…such a simple thing, such a healing thing. We here at Diana's Bow would love to hear your experience with the practice of smiling …or offer your way of healing…sharing is a healing gesture also.
Blessed Be! Crow )O(
***************************************************
Always Hekate's Daughter, Full in Life by © Starra Neely Blade 2008
***************************************************
I am standing again at yet Another Crossroads in my life,
I am so tired from lack of real sleep as my sleep cycles are off.
Feeling as if I need to cut many ties holding me back with the sharpest knife.
Then my light and shadow self in Spirit can lift and rise aloft!
I won't be dragged down by Life and all its stress and strife.
I won't forget the Goddess I Am in the daily aches, pains and tears.
I will choose to Walk Freely with Her who loves me beyond ken in this my life,
I will be all I am, can be and am becoming with Great Joy and holding onto no Fears!
Step backwards to go forwards I say!
Life may lead a merry dance but I am up to it.
The Path is clearing now or is My Sight in the Mists better today?
I am not content to let things pass me by and on my past laurels sit.
Learning is Forever if we are open, willing and eager to embrace and try.
Lessons I am eager to gain more wisdom through and by with Teachers so bright and wise.
Sitting at their feet, walking by their side I call them 'My Sisters' with a grateful sigh.
Seeking to earn the cord, as I acknowledge my needs, shortcomings, bonds of familial ties.
Many call me wise and I admit having some of my Totem's Owl-ish pride.
Humbled by the praise whilst feeling held up by better hands and minds in the life phase I am.
My wondrous sisters, Comhair of souls who choose to love me, faults gathered and laid aside.
Blessed by them, with a merrier heart I take this Tonic while I await La Bella Luna's prime.
Morgan sits at my feet with her purring that surely the Lady can hear?
Sweet friend, companion; what a joy and such feline graceful ease.
Lightening my heart as some heaviness will remain but no longer will I carry it with fear.
Partaking of life's pleasures, pains and abundance now and embracing it with greater ease.
BIO: Student, Teacher, Faery, Wytch, Mother, Daughter, Sister, Wyf!
Twirl and swirl in a Spiral Dance and laugh with joy and skirts up-hitched!
Shadowed Crossroads, Misted Paths, Crows and Owls…Wolves a'Howling-
They with me say; "I Am the Wild Chylde of Hekate, Justice Seeker, Taker and Bringer of Life!
********************************
ALL HALLOW'S EVE JOURNEY by Queen Mab
********************************
I walk a spiral path 'tween worlds, in day and dark.
The light of night illumines footsteps of the day,
and guides me toward hands, and hearts,
and starry spheres shining with the depth of night.
I walk a spiral path, my spirit soaring
over Arctic mounds, with silver thread unfurling,
toward a mystic grove with awaiting seat,
and grey-trunked tree-beings, reaching limbs and hearts.
I walk the spirals in the tree, in the grove,
in the earth-core, and in the center of the galaxy.
An owl calls, mirroring a hawk, a cup of liquid life to drink …
a magic hollow—doorway to another realm, from which the bells of blessings come.
The Goddess in our midst sends ripples
o'er the waters of our hearts, ere I return.
I walked a spiral path on hallowed ground this e'en.
**********************
SAMHAIN SONG by Queen Mab
**********************
Eyes of Bast, and chirps of winged things,
a circle cast, and gifts the Mother brings ...
Rocks and twigs breathe life into the quiet glade.
By star and circle and knife, a sacred grove is made.
The bells of angel realms bring magic tones, and bright
to touch the soul, and calm, and flood our hearts with light.
We dance the circle gay with spirits of the night.
With frolic, joy and play the Dead gleam, shining bright.
Uncast the circle, we as Time is wont to do.
We kiss the Goddess, three, another year is through.
*********************
The Gardens Secret Ann Marie
*********************
A tender kiss of dew falls on the garden row
The bright sun shines so all may grow
Between the jasmine, rose, and heather
Faerie wishes float light as a feather
Set a dish of cream and cake
For the pleasure you did take
Amidst the Gardens fragrant bowers
To please the fairies for their words and flowers
***********************************
In the Witch's Kitchen: Samhain by Lady Aquarius
***********************************
This ancient Celtic celebration lives on in the United States and in other countries as Halloween, a degraded version of both the earlier Pagan holiday as well as the latter Christianized variant--All Hallows Eve. The word "eve" in the Christian terminology reminds us that this festival begins the night prior to its calendar date.
Samhain marks the close of the year. Apples are ripening, the leaves have fallen, and the earth prepares for winter. On this night, the souls of the departed were believed to walk the earth. All manner of fantastic customs and rites were carried out on Samhain. One of these has continued into the present day. Many people leave a plate of food outside their home to provide nourishment to the dead. Samhain foods include root crops such as potatoes, beets, turnips, and carrots. Grain, nuts, mulled wines, and ciders are also appropriate foods.
Here in the United States, the pumpkin is the one food most closely associated with Samhain. This vegetable, a squash, is usually served in the form of pumpkin pie or custard. Roasted pumpkin seeds are also perfect for this Sabbat.
Pomegranate seeds are also linked with Samhain due to their connection with the underworld in Greco-Roman mythology. They can also be eaten raw or used in a variety of recipes. Apple dishes of all kinds--cakes, pies, salads--are also consumed with relish on the night of Samhain.
Have a truly wonderful Sabbat, and a most blessed new year my fellow witches!
Blessings of Light and Dark,
~Lady Aquarius~
**************************
Lady Aquarius's Samhain Recipes
**************************
Cranberry-Pumpkin Cookies
Makes soft, cake-like cookies.
Ingredients:
1/2 cup butter or margarine, softened
1 cup white sugar
1 teaspoon vanilla extract
1 egg
1 cup pureed cooked pumpkin
2 1/4 cups all-purpose flour
2 teaspoons baking powder
1 teaspoon baking soda
1/2 teaspoon salt
1 cup cranberries
1 teaspoon ground cinnamon
1 tablespoon grated orange peel
1/2 cup chopped nuts
Directions:
Preheat oven to 375 degrees. Grease cookie sheets.
In a large mixing bowl, cream butter and sugar until light and fluffy. Beat in vanilla, egg and pumpkin.
Sift together the flour, baking powder, baking soda, salt and cinnamon and add to mixture. Mix until until well blended.
Cut the cranberries in half and stir into mixture. Add orange peel and nuts.
Drop by teaspoonfuls onto cookie sheets. Bake for 10 to 12 minutes.
Makes 3 dozen cookies.
************************
Pumpkin Soup
4 pounds of peeled pumpkin, chopped
2 onions, chopped
2 apples, chopped
2 cups chicken or vegetable stock
1 teaspoon nutmeg or 3 tsp. curry powder
1 tsp. salt
2 cups water
Place pumpkin, apples, onion, stock, nutmeg and salt in the water in a heavy saucepan and bring to the boil. Cover and simmer 40 minutes until pumpkin is tender. Puree in a blender or processor.
2 1/2 cups milk
freshly ground pepper
Return to pan and add milk and pepper.
***Garnish with cilantro if curry is used.
***********************
Samhain Apple Delight
8 ounces semisweet chocolate, coarsely chopped
1/4 cup pecans, finely ground
6 large, firm apples
1/2 cup sugar
1/2 cup heavy cream
1/2 cup dark corn syrup
2 tbs. unsalted butter
Pinch of salt
1/2 tsp. vanilla extract
Place the chocolate in a double boiler over medium heat until it is almost melted. Remove from heat, stir, and let cool.
Spread the nuts in a small bowl.
Dip the apples into the chocolate and shake off excess. Then dip the apples into the nuts to coat the bottom. Set them 3 inches apart on a lightly buttered tray and refrigerate for 45 minutes.
In a small pot, stir together the sugar, cream, corn syrup, butter, and salt. Cover and bring to a boil over medium heat. Cook until the mixture reaches 240, stirring occasionally. Remove pot from heat and add vanilla. Pour the hot caramel over the apples, a little at a time, letting it drip down the sides. Cool the apples but don't refrigerate them.
When ready to serve, slice the apples in half and remove the cores. Cut each half into 4 slices.
Makes 48 slices.
************************
ART BY SPELLBINDING SHERRY
************************
See Sherry's wonderful creations right here:
http://www.myspace.com/spellbindingartwork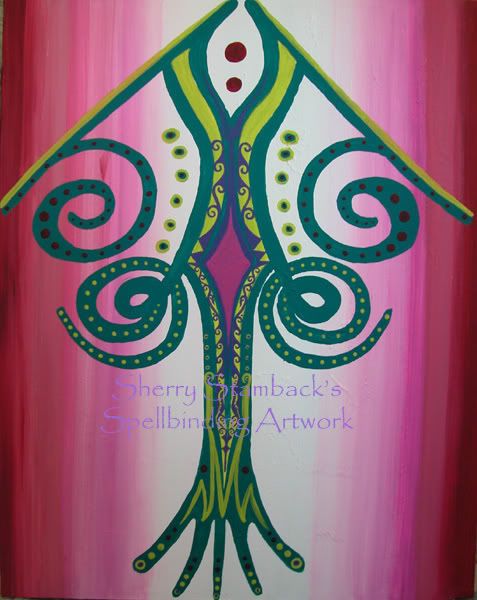 ***************************************
DIANA'S BOW NEWSLETTER'S CURRENT LISTINGS
***********************************
Tarot Readings Available!
Workshops are coming soon!
Enchanted Shop
214 E. Tarpon Ave.
Tarpon Springs, FL 34689
727-938-7079
http://www.9thcauldron.com/store/
************
MUSIC REVIEWS
************
For great music and lots of fun, check out two Pagan bands that we Tampa Bay Pagans are proud to call our own, Hecate's Wheel and the Shining Wheel Pagan Chorus! We saw them play at the great venue, Skipper's Smokehouse on October 28th, 2008 for the Girlie Show.
You can find out more about both bands right here, listen to some of their tunes and get more info on how to purchase their music:
http://www.myspace.com/hecateswheel1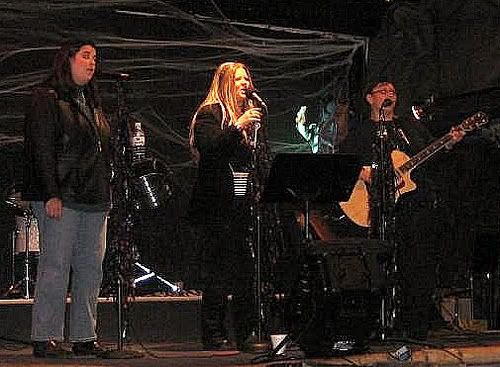 http://www.myspace.com/shiningwheel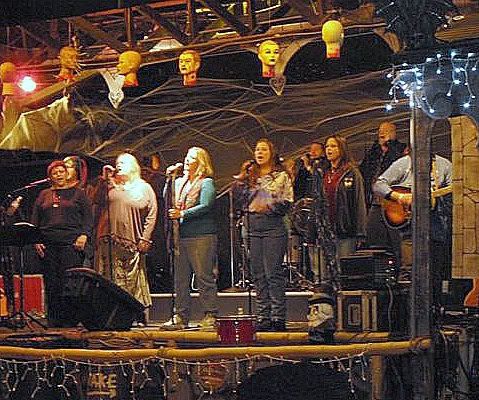 **********************
**********************
**********************
***HAIL AND WELCOME TO OUR FIRST ISSUE!
***No part of this newsletter can be used without written permission from Diana's Bow Newsletter and the authors and contributors presented here. This newsletter may be copied and forwarded for educational purposes only and providing that it is copied and forwarded as a complete document with author's and contributor's credit included and with all links and advertisements intact.
To contribute and/or more information, please email
dianasbownewsletter@gmail.com
See us here on the web:
http://dianasbownewsletter.blogspot.com
http://www.myspace.com/dianasbow
Many Happy Samhain Blessings,
The Diana's Bow Newsletter, copyright Anita Stewart aka the Tarotlaydee )0(, 2008