This is the Westpac rescue Helicopter on the Paeroa,Waikato,NZ helipad on the domain rugby field..
I saw something strange today I saw a soul leave its human bodysuit..
I saw a really strange thing and had a weird  death experience this day,it was Friday 23rd January 2016 at 3.57pm,...And I believe I saw the soul of a dying man leave his body,...now how I saw this by my own eyes I will explain below..
The actual picture that I took of the Westpac Rescue Helicopter as it was  taking off...
I was present when a Westpac rescue helicopter had just come into town from the Auckland Hospital to collect a sick human, I can not give any client patient information,as it's confidential & under the privacy act,however the St Johns Ambulance service brings  patients by ambulance to the open field just down the road behind the fire station in my town, where it can land while the ambulance paramedic's can stabilise the patient to be airlifted to the nearest hospital of medical care with the right choice for specific treatments.
Now I work for Te Korowai Hauora O Hauraki medical centre.. today as I'm standing watching and observing this procedure,as I had just been with this client when he became ill suddenly and had firstly what I thought was a seizure right in front of me,but it turned out it was a massive heart attack... as I was being signed off for my Level 4 Medicine & first aid Administration Clearance Certificate with a Home Care Co-Ordinator & Supervisor...
The supervisor called for a ambulance immediately and I had to watch everything unfold, it was rather scary to be right there at a medical emergency under these circumstances...now to cut a long story short,we followed & made it to the helicopter bay behind the ambulance with the patient and as I'm watching this helicopter sitting there on the landing pad with its rotor blades on slow turning mode as it had just landed..also it was ready to lift off at any time on the all clear call from medic's to what status my client was at,...they were trying to stabilise him he was hooked up to ECG machines & had been fibrillated as he was in heart attack erratic arrhythmia..
I took a few steps back as the blades were moving the dry recently mown grass around the pad & it was in whirl winds and was blowing in my eyes,...  I then could see the whole helicopter in my vision from it's rotors and its landing gear on the ground, while the St John Ambulance  medic's  staff were working on my client in the helicopter also, I looked up above the blades for a split second and the instant I did this I suddenly saw a glowing white light suddenly shoot right out the top of the helicopter into the air,it didn't just float out either it actually shot up real fast like a rocket...it gave me a fright and my instant response was to jump,but also to step forwards towards the helicopter again to view my client,but then I realised this wasn't my place he was now in the hands of the paramedic's, I could see them doing electric paddle shock defibrillators on his chest,they were working hard...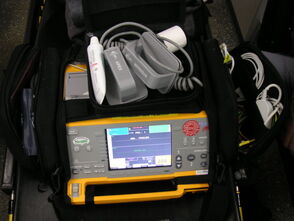 I grabbed my supervisors arm and said loudly to her, its too late he's gone he's just passed away, he's not coming back either....I saw him leave,....she looked at me with a weird look on her face, and then back at the helicopter with the rescue team working on him, she then took my arm and moved me back away from the helicopters noises..she then said, "how do you know he's passed away what did you see Vlada",....
I  replied and said to her.. "I saw him leave, I'm so sorry if this sounds strange to you.. but I saw him leave he shot straight upwards above the helicopter".....she patted my arm and then after I said that she stood and waited as two of the paramedic's stepped out of the helicopter,and it then powered up and took off fast upwards...two paramedic's were still working on him as it took off...
I didnt know at the time but my supervisor asked the remaining two medic's returning to their ambulance if he had passed away,they nodded their heads, but one also added they would keep working on him still on the way to the hospital just in case he was revived on the way, and if not, then they would call it with Dr's present at the hospital as to time of death etc...
This supervisor and I then returned to her car in the car park,as we had followed the ambulance from the house to the helicopter landing pad,and I was shaking all over by then,uncontrollably...I felt really bad & also sad inside to,I actually had very mixed emotions I didn't know how to control...but once there she turned to me and said ...
"Amazing what you saw,shaking her head, [cos she knew I wasn't making it up shed just confirmed the mans time of death with the paramedic's in the ambulance]..let alone that you really did see him leave Vlada,I know you did,its just not every day you can confirm peoples sightings of the soul leaving the body but I just did" ...
I nodded my head and said "yes I did,it was beautiful though to see,he glowed all white and also other colours inside this glowing light ball kinda like tinsel on a Christmas tree as he rose upwards fast,and it didn't look like the shape of a body either,see that is a fallacy now confirmed, it was just all light in a ball with a line of light below it as it was going straight upwards and then it just vanished.
 She nodded and said she believed me.. as I would not have known at the exact time that he had passed to say to her that I saw him leave, especially before the Medic's confirmed back to her of his passing as they were still working on him to at the time as I said earlier....
Anyway his soul looked very similar to this image above to give some idea of how he went straight up like these light orbs are doing,these are real souls without human bodies ......
√ℓἇ∂ἇ..
Below are videos of other peoples experiences and the photography of souls after death...
Warning this first video may disturb some people,but this is how I saw the mans soul leave also..
other Interesting video's
Two Sisters Saw Mother Soul When She Died: Dr Morse Presents